GNOME Photo Printer
GNOME Photo Printer (16.08.2008)
GNOME Photo Printer is intended for printing photos in an easy way. Just drag your Photos from Nautilus to the GNOME Photo Printer window and drop it. Make some selections like Photo or Paper size, hit Preview or Print , and see your pictures printed.
Click on the image to see screenshot in full size: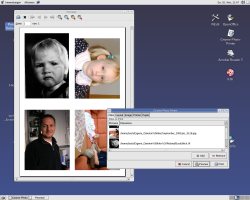 The Package is located here. (Version 0.7.0)
A SUSE 10 Package is located here. (Version 0.6.6, Thanks to Stephan Flor.)
You can also find GNOME Photo Printer in almost any distribution repository.
Dependencies:
– libgnomeui
– libgnomeprint/ui
– libglade
If you find a Bug or if you have any suggestions about GNOME Photo Printer just mail me.